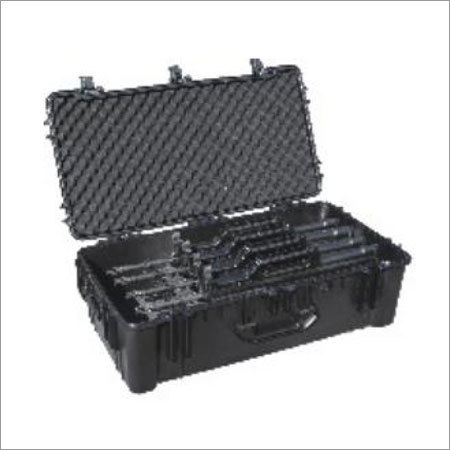 Product Description
We offer a world-class Portable Military Gun Case, which is precisely designed to store and protect rifle gun from getting broken due to high impact and abrasion. It has soft texture & padded foam protection and Interchangeable compartment for ensuring great flexibility throughout development. It's made out of Grade-A ABS plastic without combination of metal substances with the help of advanced injection moulding technique that guarantee outstanding impact bearing strength, rust formation resistance, and long lasting nature. The Portable Military Gun Case is ROHS certified, and comes in multiple dimension to choose from.

Specification :
IP Rating : IP67
Internal size: W1150xD365xH115mm
External size: W1200xD390xH160mm
Operating temperature: -40o - 80o

Large range of usages:
For Industrial application: Power station, Offshore Marine, Oil & Gas, Data Centre, Substation, and places that encountered extreme climate condition. Aesthetic look case offers super protection for equipment as well as instruments, to guarantee all functions are deliver smoothly.
For Civil Service & Military application: Basically designed & manufactured for outdoor atmosphere on all kinds of mission deployment.
For other outdoors activities: Whether it's hiking, outings or outdoor excursion, such box ensures the durability & reliability of equipments while carrying from one place to another.
OEM equipment customization: Such case can also be customized to OEM requirement in terms of shape, design, logo, colour, and the inner compartments upon request.
Contact Us
No. 8 Longchang Road West, Pingpu Industrial Park, Dabu Village, Sanxiang Town, Zhongshan, Guangdong, 528463, China
Phone :86-760-85898802