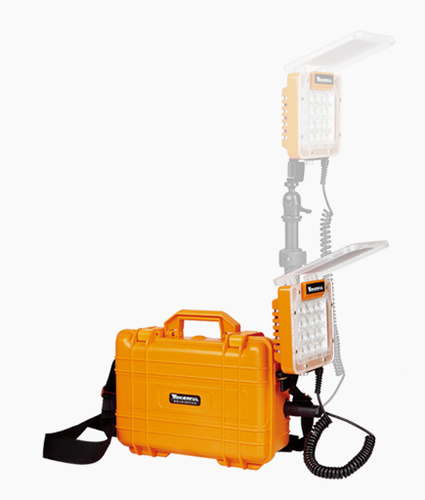 Product Description
Features
The cabinet and lamp housing is made of high-strength plastic with waterproof technology to make the system wear-resistant, waterproof, dustproof, anti-static, anti-impact and anti-corrosion.
The lighting system can be disassembled and assembled simply and quickly and can be placed in the WONDERFUL safety waterproof box for convenient transportation.
It adopts the livestock battery that can be used for repeated charging cycle without a generator, it is energy saving, high efficiency, environmental protection with no noise.
The lamp holder is composed of CREE high-brightness LED lamp, which ensures the low energy consumption, high reliability and long life of the system. The lamp life is more than 50,000 hours, and there is no need to replace it for life.
The brightness of each lamp head (power 16 watts / 24 watts) is equivalent to the brightness produced by traditional incandescent lamps and other light sources consuming 300-500 watts of power.
Lamp head design with concentrated (far-light), floodlight (close-up) function, it is convenient for search and rescue and emergency lighting.
With a telescopic bracket, the lamp head can be rotated 360 degrees, which makes it easy to illuminate any area.
With charging adapter (AC100-220V), optional solar panel charger and 12V car charger it can be charged in a variety of environments.
Strobe function, convenient "SOS" call rescue.
Specification
Light source type: 1-16 × CREE LED'S
Battery type: 12V 15Ah
Charging time: 5 hours (13.8V 3A)
Light level: 1300/800/300 (LM)
Lighting time: 9/15/35 hours
Light irradiation angle: 15 degrees (concentrated) 90 degree (flood)
Head size: 175 × 165 × 66 mm
Box size: 365 × 269 × 151 mm (PC-3515N)
Power: 16 W
Product weight: 10 KG
Application:
Railway maintenance, subway maintenance, aviation maintenance, road maintenance, line maintenance (power plant, nuclear power, communications), tunnel construction, engineering construction, emergency rescue, medical assistance, petroleum and petrochemical, industrial and mining enterprises, fire, military and police.
Contact Us
No. 8 Longchang Road West, Pingpu Industrial Park, Dabu Village, Sanxiang Town, Zhongshan, Guangdong, 528463, China
Phone :86-760-85898802