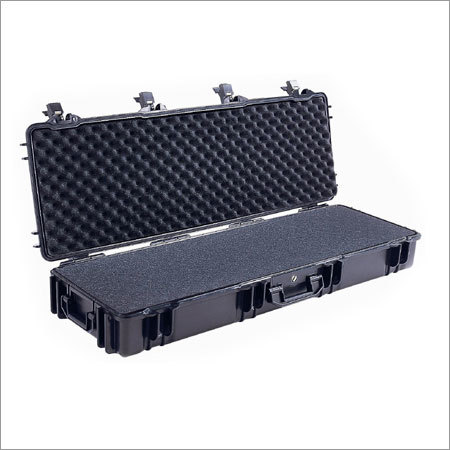 Product Description
Waterproof Plastic Gun Case is designed to store rifle gun inside with maximum protection. It has class-A foam protection, which protects gun to get damaged and broken. This is made of graded ABS plastic without using any metal substance with the help of approved injection moulding technique that guarantee its high impact resistance, durability and rust-proof structure. The Waterproof Plastic Gun Case ensures airtight packing, and has interchangeable compartment for guaranteeing great flexibility during deployment.

Specification :
IP Rating : IP67
External size (WxDxH) : 1200x390x160mm
Internal size (WxDxH) : 1150x365x115mm
Tightly Seal: Dust & Water resistance, IP67.
Durable: Doesn't contain any metal substances hence it doesn't rust or corrode.
Operating temperature -40o - 80o
ROHS certified.
Wide spectrum of usages:

For Industrial application: Oil & Gas, Substation, Data Centre, Power station, Offshore Marine, and places that faced extreme atmospheric condition. Elegant box provides outstanding protection for equipment & instruments, to ensure all functions are deliver smoothly.
For Civil Service and Military application: Mainly designed & developed for outdoor surroundings on all kinds of mission deployment.
For other outdoors activities: Whether it's hiking, picnic or outdoor excursion, this case ensures the durability & reliability of instrument when carrying from one place to another.
OEM equipment customization: This type of case can also be custom-made to OEM requirement. This comprises the design, colour, logo, shape, and the inner compartments upon request.
Contact Us
No. 8 Longchang Road West, Pingpu Industrial Park, Dabu Village, Sanxiang Town, Zhongshan, Guangdong, 528463, China
Phone :86-760-85898802